The puzzle type for the November Division D round is Tapa.
GM Puzzles describes the puzzle rules for Tapa as follows:
Shade some empty cells black to create a single connected wall. Numbers in a cell indicate the length of consecutive shaded blocks in the neighboring cells. If there is more than one number in a cell, then there must be at least one white (unshaded) cell between the black cell groups. Cells with numbers cannot be shaded, and the shaded cells cannot form a 2×2 square anywhere in the grid.
Here is a worked example (though I haven't got any cells with more than one number in this example).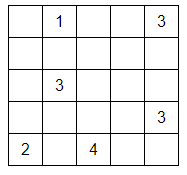 Cells in the centre of the grid have eight neighbouring cells, and can be harder to see where to start. Cells in the corners or edges have 3 or 5 neighbours and can be better starting points.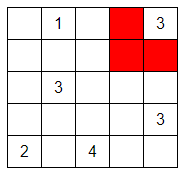 This 3 in the corner only has three neighbours, so they must all be shaded.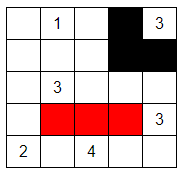 This 4 at the bottom has five neighbours, so whichever four are shaded, the middle three must be shaded.
Now we have information about the 3 in the centre. two of its neighbours are shaded now, so the four crossed cells cannot be shaded, or there would end up being more than three consecutive shaded cells.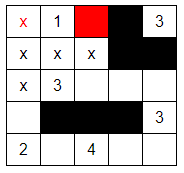 The 1 on the top now only has two possible cells to shade. It can't shade the one right in the corner, because it wouldn't be able to be part of a single connected wall, so we shade the red square as the only remaining option.
The red square must also be shaded, or else the top section of wall and the bottom section of wall cannot be connected.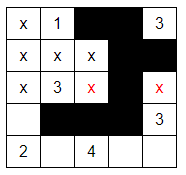 The two cells with red crosses cannot be shaded or there would be a shaded 2x2 square, which is not allowed.
We finish the puzzle by completing both lines of 3, for the 3 in the centre and 3 in the bottom right, as they have an x on one side of the shaded line, so we know which direction it must go in. Counting the 2 and the 4 as also finished, we know that no more cells can be shaded in.